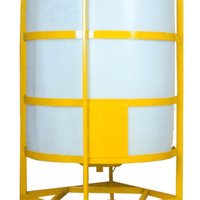 PRODUCT USAGE
done
Liquids
done
General Purpose
MAIN FEATURES
Composite mixing vessel for liquids.

Rotationally moulded seamless heavy duty replaceable polyethylene liner.

Heavy duty steel frame.

Vertical or horizontal discharge options.
CPL's are manufactured and proven to provide users with tough long lasting mixing vessels. CPL's are easy to clean. The CPL range has been in production for more than 15 years and is being successfully used in a wide range of applications. More info
expand_less
expand_more
DESCRIPTION
The CPL 900 is a reusable IBC for blending and mixing liquids.
The CPL liner is rotationally moulded in natural UV stabilised linear medium density polyethylene. The manufacturing process produces seam free and virtually stress free thick walled containers that have excellent resistance to industrial wear and tear, corrosion and environmental stress cracking.
The liner has a central vertical outlet to aid complete discharge of contents. The liner is supported and protected by a galvanised mild steel frame, providing excellent resistance to the elements. The frame has integral fork lift and stacking capability, so units can be stacked for loading and space saving.
The liner inlet is 350mm in diameter and has a HDPE² screw cap fitted with an EPDM5 O-ring seal as standard. The outlet is a 50mm single union UPVC4 ball valve fitted with EPDM5 seals.
expand_less
expand_more
SPECIFICATION
Specification
| Dimensions | |
| --- | --- |
| Width/Depth/Height (mm) | 1100/1100/1850 |
| Inlet diameter (mm) | 350 |
| Outlet diameter (mm) | 50 |
| Tare weight (kg) | 170 |
| Capacity (l) | 900 |
| Composition | |
| Liner | LMDPE1 |
| Frame | Mild Steel (galvanised) |
| Options | |
| Screw closure or clamp band lid | |
| Anti – tilts on frame | |
| Full fork tunnels on frame (maximum handling stability) | |
| Various vents and top fittings | |
| Vinyl logos | |
| Coloured liner | |
| Anti-static liner | |
Linear Medium Density Polythylene
Dimensions subject to normal manufacturing tolerances.
expand_less
expand_more
PRODUCT RANGE
Product Range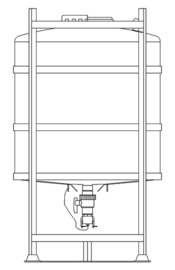 CPL 900
chevron_leftchevron_right
expand_less
expand_more
OPTIONS
Options
More details on the options outlined below can be found by clicking on the Downloads tab and selecting the pdf you require.
Standard
Not Available
Optional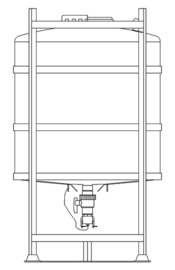 CPL 900
Outer Frame Composition
Powder coated steel
Optional
Liner Composition
Anti-static LMDPE1
Optional
Black semi-conductive LMDPE1
Optional
Flame retardant LMDPE1
Optional
Closures
360mm (14") Screw cap
Standard
460mm (18") Clamp band lid
Optional
360mm (14") Arag lid
Optional
Valves
50mm (2") Ball valve with EPDM2 seal
Standard
Butterfly valve - SS3
Optional
50mm (2") Dry break valve
Optional
Top Fittings
Anti-vacuum vent (AV)
Standard
Pressure relief vent (PRV)
Optional
Combined AV and PRV
Optional
Handling
Anti-tilts in frame
Standard
Customisation
Graphics on liner
Optional
chevron_leftchevron_right
Linear Medium Density Polythylene
Ethylene Propylene Diene Monomer
Stainless Steel
expand_less
expand_more
DOWNLOADS
expand_less
expand_more
ENQUIRE
Product Enquiry
Please complete the form below if you would like to enquire about the CPL.